Donations
Your donations help us to promote the benefits of life enrichment through the power of pets. We use your donation to help provide education for potential Pet Partner teams and education of the community.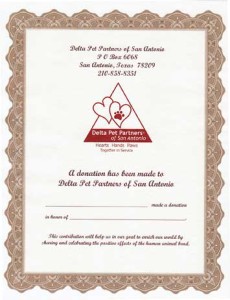 General Donations help support the organization's goals and help with education.
Memorial Donations are a generous and touching way to honor a loved person or a beloved pet or pet partner. The honoree or the honoree's family will receive a notification of your gift in the postal mail. It is a beautiful way to honor the pet lover or a pet. The amount of the donation is not mentioned in the memorial certificate.
Donations in any amount may be mailed to Delta PPSA, PO Box 6068, San Antonio, TX 78209.
Donate Online using this form and PayPal. (No PayPal membership is necessary; use a credit or debit card.)