Become a Registered Pet Partners Team!
Would you like to:
Share the joy of the animal-human bond with others?
Help people in your own community while spending quality time with a beloved pet?
Provide others the opportunity to give affection as well as receive it?
Is your animal controllable, reliable, and predictable? Does it have good manners in public places and the social skills to seek out and visit with strangers?
The Delta Society Pet Partners® program was established in 1990 to ensure that "both ends of the leash," people as well as animals, are well-prepared to participate in animal-assisted activity and animal-assisted therapy programs. Pet Partners is the only national registry that requires volunteer training and screening of animal-handler teams.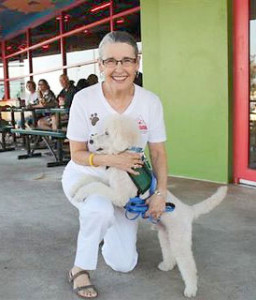 Potential Pet Partner Teams are required to follow all Pet Partner policies and procedures in order to become registered Pet Partners. Handlers must be able to learn and demonstrate the skills necessary to visit safely with your animal in hospitals, nursing homes, classrooms, and other facilities.
You can do this in two different ways:
1. Attend an 8-hour Pet Partner Team training course when one is available and then be evaluated as a team.
2. Or you can complete an online course through Pet Partners.org and then be evaluated.
[Our local evaluation dates are tentative and subject to change. You may not see them on the National Pet Partner Calendar until approximately 4 to 6 weeks before the proposed Delta PPSA evaluation dates. You will not be able to register until after the date appears on the National Calendar.]
Prior to the initial Pet Partner registration and every two years thereafter, the team must be re-evaluated. Your animal must have a thorough physical examination by a veterinarian and be current on all licenses and vaccinations required by the city and state in which you reside. As registered Pet Partner teams, we are covered by a liability insurance policy as long as we are working as volunteers.
Learn more about becoming a registered Pet Partners team by contacting us or check out our Calendar of Events page for upcoming evaluation dates.